to the asian american writers who encourage me.
and to lucky peach — i still deeply mourn and miss lucky peach.
may is asian american pacific islander heritage month, and, on instagram, every day, a different bookstagrammer has been sharing a post about the impact of books by aapi authors. you can find all the posts under the hashtag #apibookstatour, and it was arranged by two bookstagrammers, sonya and poonam. i recommend browsing the hashtag; people have been sharing really great, poignant stories.
today's my day, and i thought i'd highlight some of the asian american writers who have inspired and encouraged me over the years, not only with their writing but also with their commitment to their craft and their kindness to their readers and fellow writers. obviously, i go on for too long for just an instagram post. at the same time, there are so many wonderful writers out there.
a disclaimer to start: while my reading naturally skews 98% asian now, i know that my "asian" is still very largely east asian. i've been reading more from southeast asian authors and trying to read more from south asian authors, but i completely fail in the pacific islander part of aapi month. this is something i'm working on.
—
i didn't read contemporary lit until i was twenty; my parents had (and still have) specific ideas about books; so i was only given books that were "classics," which means i read pretty much only dead white people for almost twenty years.
the first truly contemporary novel i read was ian mcewan's atonement, but the second was kazuo ishiguro's never let me go.never let me go is quite possibly my favorite book ever, and it's definitely the book i have read the most, that i go back to over and over again. it was when i started reading contemporary literature that i realized, stupidly, that, oh shit, people are still writing books today and they're writing professionally for a living (how little i knew about the realities of publishing then!). it's the first time i thought that maybe my hobby didn't just have to be a hobby; maybe my writing-for-fun could be more than that.
somewhere in those years, i was lucky to stumble upon esmé weijun wang and jenny zhang on the internet. this was long before they had books, back when they were writing on the internet, esmé on her journal, jenny, at the time, on the fashion blog she'd taken over from esmé, fashion for writers — and, ohhh, what writing it was, writhing with life and unabashedness, so free of shame of the sticky and dark and brutal! i'd never read writing like theirs before in my life. their writing was eye-opening, and i'm so grateful that my primary education came from them, that they were living examples of the fierceness and multitudes asian american women could contain, of the brilliant, shining writers they could be.
i'm no less grateful for the writers i've read and discovered over the years — alexander chee for forging the way for gay korean americans with deeply empathetic writing, nicole chung for her thoughtful kindness and grace, christine lee for her generosity and wit, patty yumi cottrell for their inimitable voice, alice sola kim for being maddeningly fucking brilliant, t kira madden for her tender but fierce spirit and poetic, vibrant prose, alexandra kleeman for her atmospheric, weighty worlds that have such a rich physicality to them, yoojin grace wuertz for her ability to bottle up nostalgia and love, rachel khong for her humor and full heart and food writing.
i could go on, but these are some of the writers who have left indelible imprints, whether on me as a writer or as a person. i'm not someone who really draws lines between the creator and the work, and it doesn't matter whether we're talking authors and book or chefs and food — i believe work illuminates the human because the human informs the work, so i don't believe in trying to separate the two, to pretend that it's possible to compartmentalize, like faux-compartmentalization is even something allowed to anyone but white people (mostly white men, but white women aren't exempted from this).
anyway, this is my long-winded way of saying that the writers who have encouraged and continue to encourage me are those whose work is fundamentally built upon kindness. that doesn't mean their writing is just nice and gentle — no, these writers are fierce, angry, unashamed, hurt, grieving, frustrated, terrified, and they scream and howl and hurl accusations and point out wrongs with fury and rage. they contain wild multitudes.
and it's because of all these multitudes that they write with great love.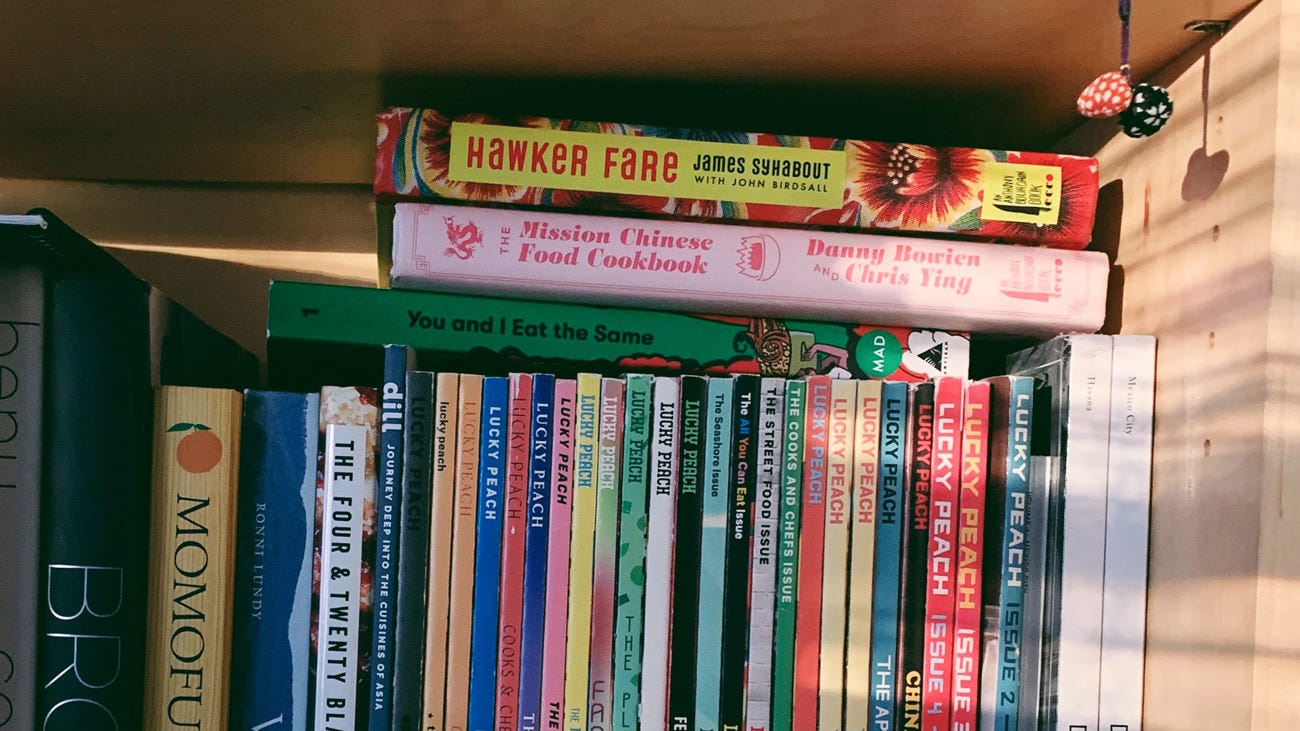 —
if we're talking asian american influences on my writing, i also have to throw out some love for lucky peach — i still deeply mourn its loss. lucky peach was revolutionary for many reasons, but i'm deeply grateful to the magazine for showing us the food writing we can have when asian americans are in the room.
an example? in september 2016, bon appetit released a video about pho, in connection to their list of best new restaurants. the chef they chose to highlight in the video was a white dude from philadelphia who was brazenly trying to educate the public on how to eat pho, and the fiasco highlighted (yet again) the racist power dynamics in food, who gets to speak to what at whose expense.
the BA video rightfully exploded into a fiasco, with BA eventually removing the video altogether and issuing a non-apology. the thing, though, is that, in may 2016, lucky peach had released issue 19, which was dedicated to pho. the issue featured writing by people of color, including vietnamese people who had both the knowledge and the ability to write about the noodle dish.
i'm not trying to say you have to be a certain race or ethnicity to write about certain types of food. however, it is undeniable that publishing, whether book or food, has a race problem, that it is blindingly white, that it is willing and happy to take from non-white cultures and appropriate them while blocking out non-white voices and stories, and the 2016 pho issues really highlighted the difference between a magazine with asian americans on the editorial team and a magazine without.
lucky peach's closure has left a massive, gaping hole in food writing, and i miss it constantly. i'm lucky to have a full collection of all the issues thanks to the generosity of friends who have graciously closed my gaps. when majordomo media was announced, essays were included as part of it (with chris ying and rachel khong attached at the time), and i was so excited and hopeful that we'd finally have a new space for exciting food writing that made space for poc, but it hasn't happened yet, and, while i still hope it does one day, i'm not quite holding my breath for it any time soon.
—
here is a brief list of recommended reading that i have not organized in any particular order. a few have links to blog posts i wrote, back when i used to write a bookish blog called the toilet papers, which is something i often miss, just not enough, i guess, actually to resume. i was quite proud of my blog, though — and still am!
fiction:
kazuo ishiguro, never let me go

patty yumi cottrell, sorry to disrupt the peace [blog post]

esmé weijun wang, the border of paradise

alexander chee, edinburgh

rachel khong, goodbye, vitamin

pitchaya sudbanthad, bangkok wakes to rain

susan choi, the foreign student

ken liu, the paper menagerie and other stories [blog post]

krys lee, how i became a north korean [blog post]

alice sola kim — she's working on a book but google her short stories and read them all
nonfiction:
nicole chung, all you can ever know

jenny heijun wills, older sister, not necessarily related

christine h. lee, tell me everything you don't remember

esmé weijun wang, the collected schizophrenias

t kira madden, long live the tribe of fatherless girls

alexander chee, how to write an autobiographical novel

yiyun li, dear friend, from my life i write to you in your life [blog post]
i also have a page on my website with recommended asian diasporic writing. i haven't updated it in a while, but i still think it's a good place to start if you're looking to diversify your reading. obviously, i still have a lot of work to do in diversifying my reading, too!
—
thank you, as always, for taking the time to read this!
if there's one thing you take away from this substack, though, it's that you should read patty yumi cottrell's sorry to disrupt the peace. the narrator (helen) has one of the most unique voices i've ever read, and patty doesn't drop it once — like, there are many writers who are good at first-person, but there are very few writers who are truly great at it, and patty is one of them. (as is kazuo ishiguro — his ability to embody first-person is mind-blowing.)
also, sorry to disrupt the peace makes a great discussion book. i will not stop recommending this book; i think it's just so damn underrated! i read it for the first time in 2017 and have not stopped thinking about it since! and have reread it multiple times and can attest it stands up to time! omg! just! read! it!